Hideo Iwasaki & Oron Catts
(Cyanobacteria,
Oscillatoriasp., Nostoc
sp.,
Pseudanabaena
and
Synechococcus elongatus
PCC 7942, 
PC motherboards, minerals, culture media)
Cyanobacteria, photosynthetic bacteria, one of earliest life forms on earth, are absorbing and rearranging metals and minerals dissolved from motherboards as they grow. Cyanobacteria facilitate biogenic sedimentation of such minerals slowly, transforming landscape. Under permitted conditions, installation included cyanobacterial species,
Synechococcus
, had been genetically modified to enhance production of 'alkaline phosphatase' activating lithification.
"Biogenic Timestamp" is a project researching the links between geological and biological time. We are exploring different aspects of material manifestations of temporality and placement using an array of time based artistic practices and new developments in synthetic biology, working with cyanobacteria as model organisms. Our work involves exploring different ways of manipulating the cyanobacterial biological clock, its spatiotemporal pattern formations and cyanobacteria's ability to accumulate, deposit and precipitate metals and other substances. The concept of time (and its manipulation) as manifested by cyanobacteria and its by-products represents a fertile ground for the exploration of different modes of time-based art practices.The project involves artistic research in some of the places of biological and biogenic geological significance, as well as lab work to explore the possibility of human-induced biogenic formation. By considering geological and human-derived biogenic formations, our artistic research will provide ancontestable approaches and critical interpretation of synthetic biology.
For more details, see O. Catts and H. Iwasaki (2014) "Biogenic Timestamp: exploring the rearrangement of matter through synthetic biology" in Synthetic Aesthetics: 

Investigating Synthetic Biology's Designs on Nature (

Eds. A. Ginsberg, J. Calvert, P. Schyfter, A. Elfick, D. Endy) pp. 195-204, MIT Press.
This project was initiated and supported by Synthetic Aesthetics, a research project run by the University of Edinburgh, Scotland, and Stanford University, California. Synthetic Aesthetics, is jointly funded by the National Science Foundation (USA) and the Engineering and Physical Sciences Research Council (UK). Then, this project was supported by the Australian Council of the Arts.
2014-2015, "Project Genesis", Ars Electronica Center, Linz
Hideo Iwasak & Oron Catts

2013-2014, Open Space 2013: BioAesthetics Open Lab (metaPhorest)
Hideo Iwasak, Juan M. Castro, Oron Catts
NTT InterCommunication Center, Tokyo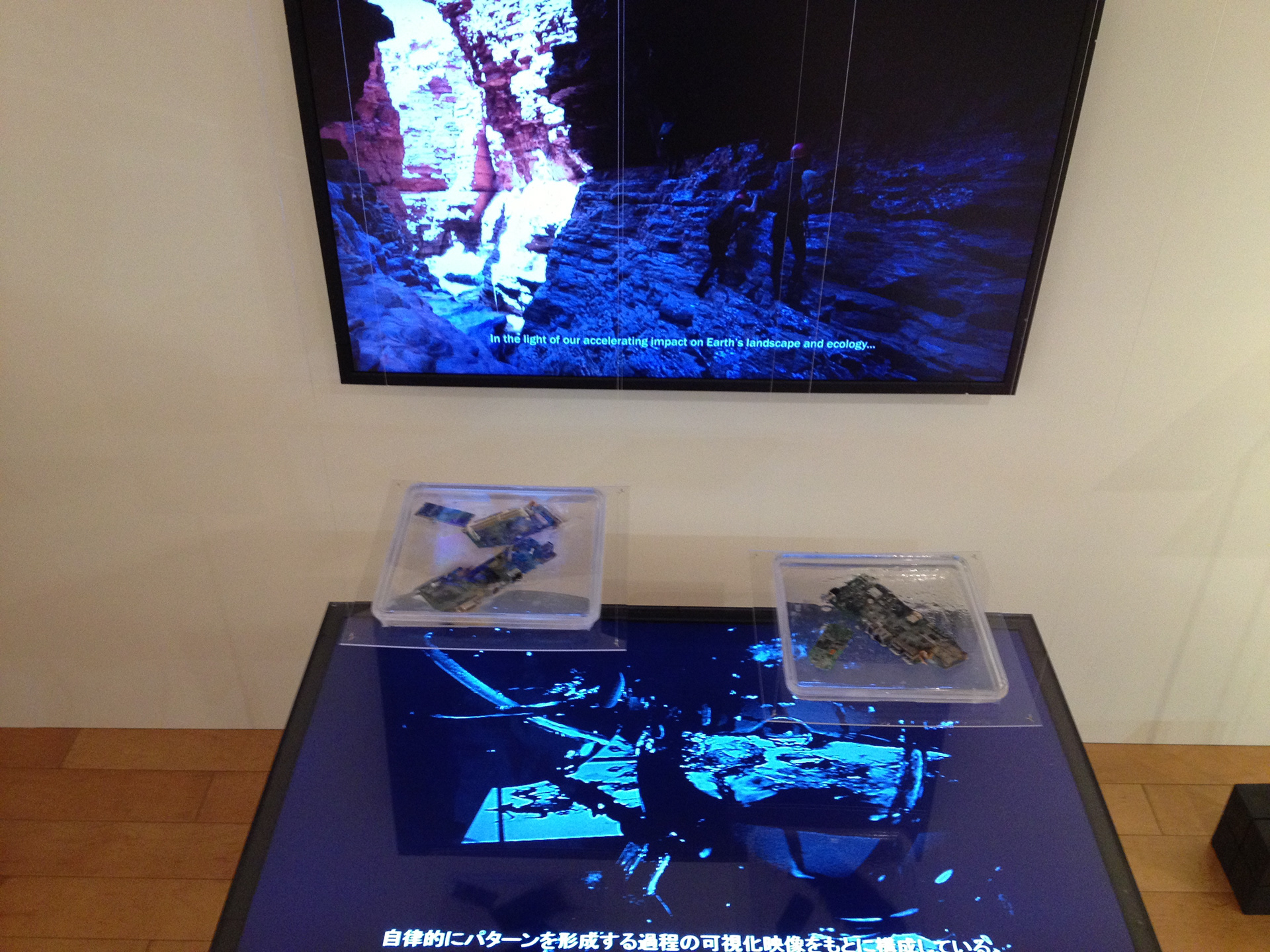 2013, "Biomedia Art" at the AkibaTamabi Gallery, Art Chiyoda 3331, Tokyo
Hideo Iwasaki + Oron Catts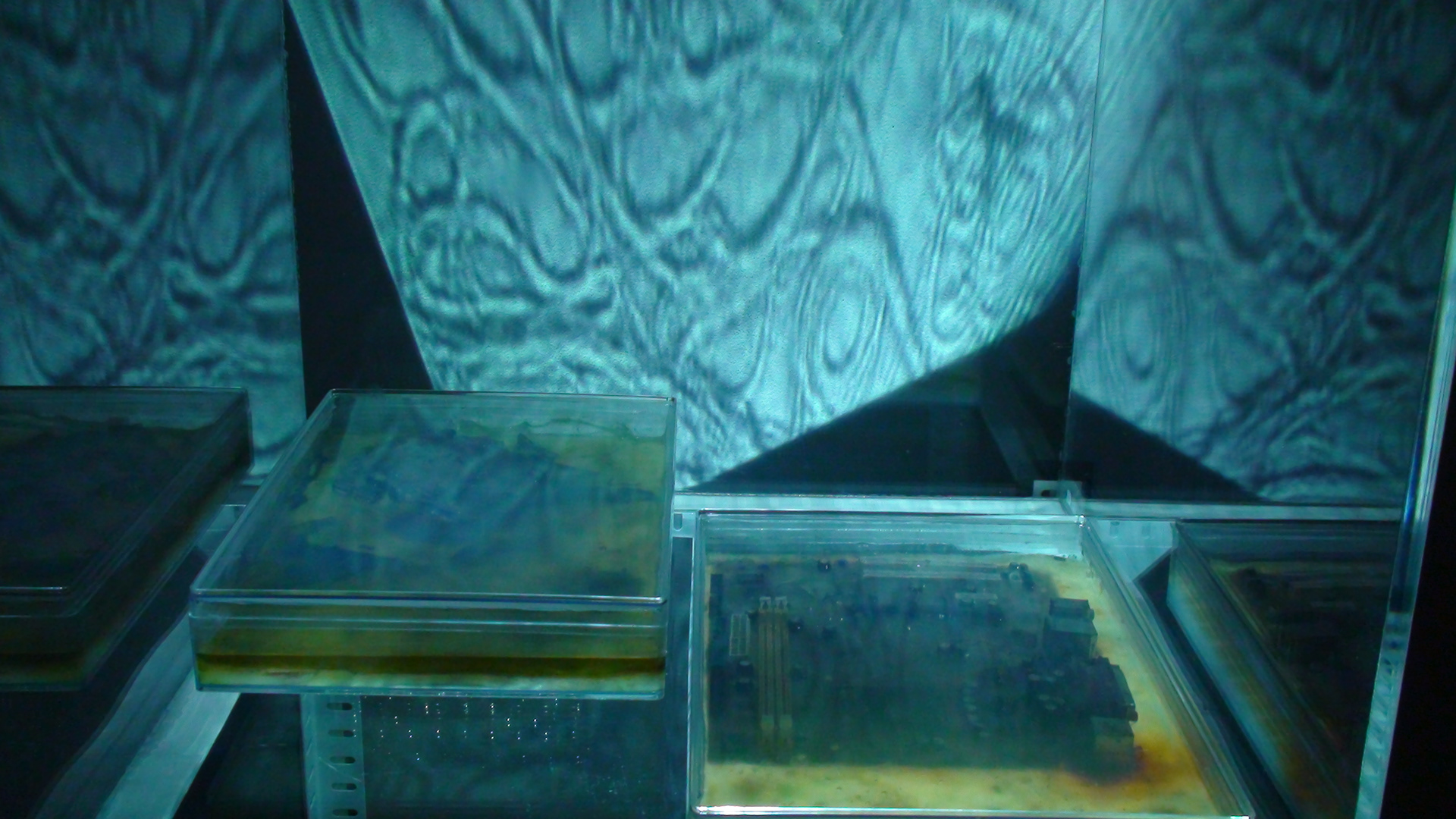 2012, "BioAesthetics", Waseda University, Tokyo
Hideo Iwasak & Oron Catts
Oron Catts is an artist, researcher and curator whose pioneering work with the Tissue Culture and Art Project, which he established in 1996, is considered a leading biological art undertaking. He is the founding Director of SymbioticA (since 2000), an artistic research centre at The University of Western Australia and winner of the Prix Ars Electronica Golden Nica in Hybrid Art. Selected in Thames & Hudson's '60 Innovators Shaping our Creative Future', Oron's work reaches beyond the confines of art, often being cited as an inspiration in areas as diverse as new materials, textiles, design, architecture, ethics, fiction and food.